Bite Sized Gaming Experience
---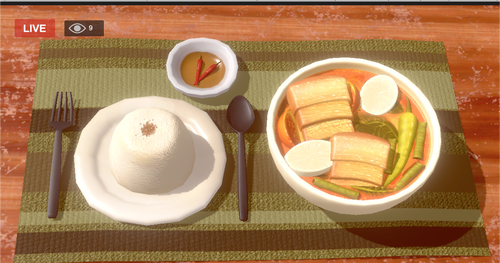 Putahe ng Ina Mo! Sinigang Edition is finally here.
We are uploading a make your own sinigang cooking demo. That's free to play on the itch.io game's page. It's a small game experience with adorable audio design (and stays in your head long after you've heard it), detailed 3d food assets that would make you hungry, and badly translated comments that's not in your face.

One of the reasons why we wanted to make this prototype is because we wanted a cooking simulation that wasn't Cooking Mama, or Hungry Hearts. Our game artist, Trina Pagtakhan, also wanted mouthwatering Philippine food assets that be on par with Final Fantasy's XV.

One of the core things we do when we make small games is what can we do that makes this different from other existing games.
Here's what stayed in the core throughout the production:

No tutorials, and no hand-holding. On the programming side, this started to become overwhelming because there was a lot of agency given to the player. But seeing how people reacted when we uploaded the game (and saw how passionate people were when sibuyas wasn't included in the mix) validated all the hard work and thought we put into it.
The game has to feel right to the player, and every single experience should feel natural. While a lot of people heavily rely on detailed instructions on complex systems, we wanted to keep the game controls as simple as possible which meant removing ingredient preparation and ingredient quality, and having a game session that's under a minute - a decision that limited our scope and allowed us to refine the idea further.

Game feel is top priority, which meant every little detailed mattered. From the lighting, to the texture of the food, to the water changes, to deciding that the game scene be a "live stream" which then led to the results disguised as comments.

While we've been posting works-in-progress of the game for quite some time now, it was when our audio designer, Gia Canta came on board and produced iconic, relatable sound bytes for the game that completed the game feel, and that people started to talk about and genuinely be excited about the game!
Literally the most sabaw game we have ever done pic.twitter.com/O2eNx49y6y
— Ichicko (@ichickooo) May 27, 2020
What's next
Whenever we make games, we ensure that we are laughing so hard during the process. We'd definitely want to represent Philippine cuisine in a video game (this is Gwen's 2nd game and Trina's 4th game about Philippine food). We'd want to put more recipes, explore more mechanics, and create maybe a game beyond a minute. We'd love to know what recipes you'd want to see in the game, and what features you'd think are funny and/or cool.

We're keeping the demo playable for free in the itch.io page, but if you'd want to support us and help us build a bigger game, you can download the PC/MAC version for a minimum price of 1.00 USD (and you can pay more if you'd like!).

Game Prototype Credits
Developed by Chikon Club & friends
Art Trina Pagtakhan
Audio Gia Canta
Design Trina Pagtakhan & Gwen Foster
Programming Gwen Foster, Andrew Alegre
Special Thanks to Francis Roque, Callum Underwood, Josel Nicolas, and to everyone who now has LABANOS LABANOS SITAW SITAW SITAW SINIGANG MIX stuck in their heads.

Files
SinigangEdition.zip
Play in browser
May 31, 2020
Get Putahe ng Ina Mo: Sinigang Edition